Oda Chair
By Brdrs Petersen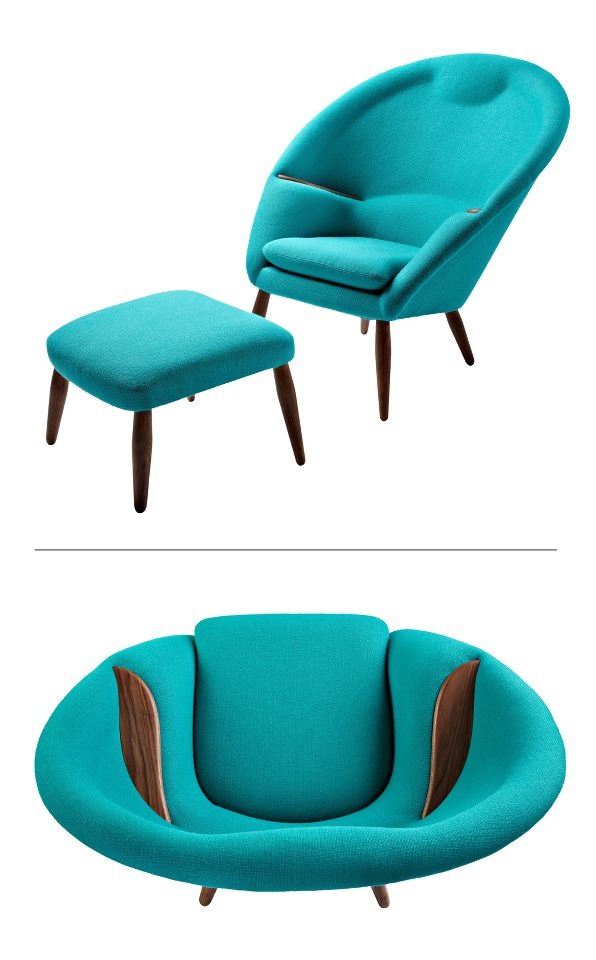 In 1956 Jørgen and Nanna Ditzel designed a spacious armchair with round, organic shapes. It was unofficially called "Nursing chair," presumably because it had ample space and provided comfortable support for a nursing mother with her child in her arms. The chair has not been in production for many years and has only been found at auctions or from vintage furniture dealers.
In cooperation with Nanna Ditzel Design, Brdr. Petersen has now reconstructed the chair from a vintage piece, since the original drawings for the chair have been missing for a long time.
The armchair has never had an official name, but the chair has now been named "Oda Chair" as a tribute to the Japanese professor and furniture collector Noritsugu Oda, who was a good friend and supporter of Nanna Ditzel and her work. The Oda Chair is available in fabric and legs in oak, walnut or teak. Matching the chair there is a small footstool.
Nanna Ditzel (1923-2005) was a cabinetmaker and went to The School of Arts and Crafts, Copenhagen. She became a furniture designer in 1946, and together with her husband Jørgen Ditzel (1921-61) she designed jewelry, textiles and furniture in particular. She is known for her fine sense of what the needs the furniture had to meet. Her style is bold and experimental, and throughout her career she let herself be inspired by new materials and new production methods. Nanna Ditzel has received numerous awards and honors both at home and abroad.