Zoe Outdoor
By Verzelloni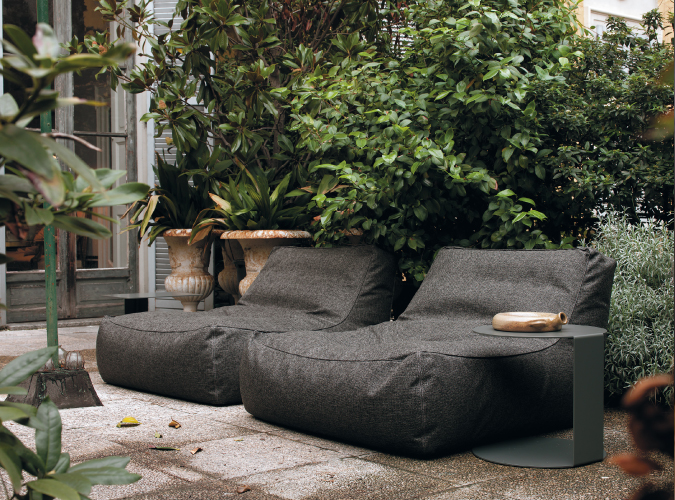 A family is not a real family if it does not grow year after year! So the big family of informal design chairs, whose originator Zoe was first manufactured in 2006, with the addition of Zoe small, Zoe Baby, Zoe outdoor, Zoe pouf, and Zoe chaise-lounge through time, becomes even bigger this year with Zoe extra-large, a very comfortable supersize version.
Designed without a support frame, Zoe has become a must in the market of informal but elegant chairs through the years. Zoe has been imitated by numerous other manufacturers that try to reproduce its 60s design, highly comfortable padding, versatile lines, and very wide upholstery range. Zoe takes the shape of the user's body, through hundred thousands micro-beads it contains, which allow variable ergonomics. The upholstery can be completely removed. In addition to the basic version with 'visibles' seams or classical stitching, the upholstery of every Zoe chair can be with the new blanket stitching "Punto Cavallo", which is highly decorative, in the same or different colors as upholstery.

The Zoe is built with no supporting frame. It is shaped by a 100% Twill cotton cover and made with 5 separate chambers, containing expanded polystyrene pearls. Each chamber is made with a zip equipped with a safety pocket.

Zoe family is available with different kinds of high quality covers - leather, fabric - in assorted colours. In April 2009 Zoe was introduced in an outdoor version with water repellent fabrics, as well as with water repellent fabric for the undercover containing expanded polystyrene pearls. Covers are sewn with a special mold resistant yarn. These outdoor Zoes are suitable for screened-in or covered outdoor areas. They can withstand an occassional light mist, but not a soaking rain and not a constant drenching from the sprinkler system.